CARSTAR Holds Estimating Accuracy Courses Around the U.S.
CARSTAR Operations and Insurance hosted the Estimate Accuracy Course in Phoenix, AZ.  Attendees gained understanding in specific insurance compliance requirements, estimating process improvement, and utilization of the estimating platform to process the information.
Thank you to Liberty Goodwrench CARSTAR for hosting the event.  Manager Patrick Sullivan said, "I don't think we could've asked for a better information to improve our KPIs with our Insurance Partners. Thank you very much for the great presentation. Our team agreed that it was great information to have and took a lot away from the class!"
Many more markets will be scheduled in the future!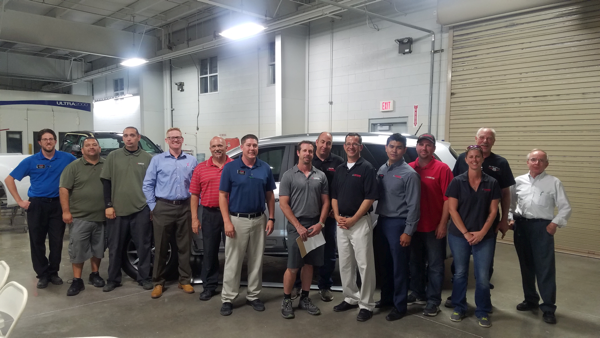 About CARSTAR
CARSTAR Auto Body Repair Experts— a part of the Driven Brands, Inc. family of automotive aftermarket franchise brands — is North America's largest Multi-Shop Operator Network of independently owned collision repair facilities with more than 500 locations in 32 states and 10 Canadian provinces. CARSTAR delivers national scale, consistently high-quality vehicle repairs, repeatable outcomes and the industry's highest customer satisfaction ratings; all repairs are backed by a national warranty and service guarantee.   CARSTAR was named the No. 1 largest MSO in North America by The Romans Group LLC and ranked 106th on Franchise Times® annual Top 200™ ranking of the largest franchise systems in North America.  For more information visit www.carstar.com and follow us on Facebook and twitter.
CARSTAR Franchise Systems, Inc. is committed to facilitating the accessibility and usability of content and features on its website, including this blog. While CARSTAR Franchise Systems, Inc. has undertaken efforts to improve the accessibility of this blog, content is frequently posted and some content may be posted by third-parties, not CARSTAR Franchise Systems, Inc., and so may not be accessible to certain users. If you have questions or concerns regarding the accessibility of this blog, please contact us via the contact section of our Accessibility Statement.